Electrolysis Training Course £1000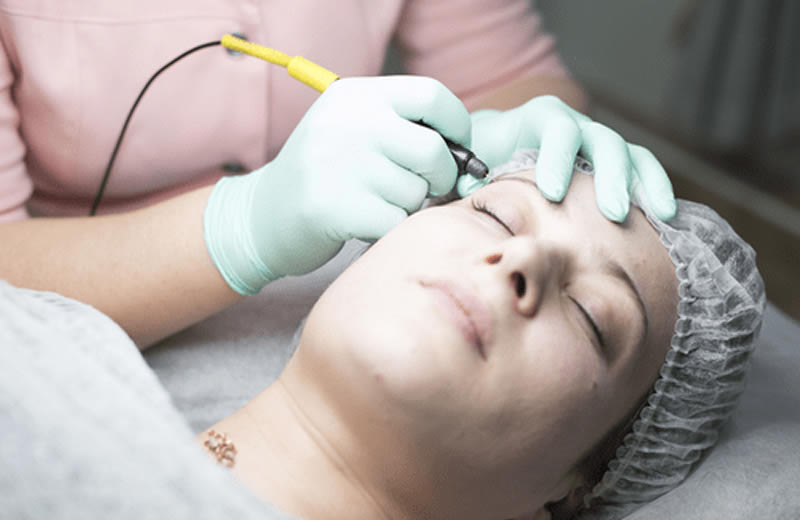 Electrolysis is the only permanent method of hair removal available. We insert a probe or filament into the hair follicle down to the dermal papilla and emits a burst of treatment energy enough to destroy the hair follicle. The hair is then removed with tweezers.
Pre-Requisites: Level 3 Anatomy & Physiology.
Electrolysis Training Course Content:
ELECTROLYSIS

Benefits
Drawbacks
Thermolysis/High frequency AC or Short-Wave Diathermy
Galvanic of Direct Current
Blend

TOOLS OF THE TRADE
CONSULTATIONS

Contraindications
Client Consultations

How to do a consultation
Transgender considerations
Treatment planning
Skin Analysis

Aftercare Advice

RELEVANT HEALTH AND SAFETY, INCLUDING:

Sharps disposal
Local authority licensing
Cleansing agents
Blood borne pathogens
Electricity

RELEVANT ANATOMY & PHYSIOLOGY
TREATMENT PROTOCOL

Treatment factors
Skin sensitivity test
Therapist positioning
Client positioning
Probing techniques
High frequency AC or short-wave diathermy epilation
DC galvanic epilation
Blend epilation
Units of lye for follicle size
Needle types
Course Structure:
Home Study (7-10 guided learning hours)
2 days practical
12 case studies to be completed
Awarding Body: ThinkTree