Ekseption Chemical Peel Training Course £400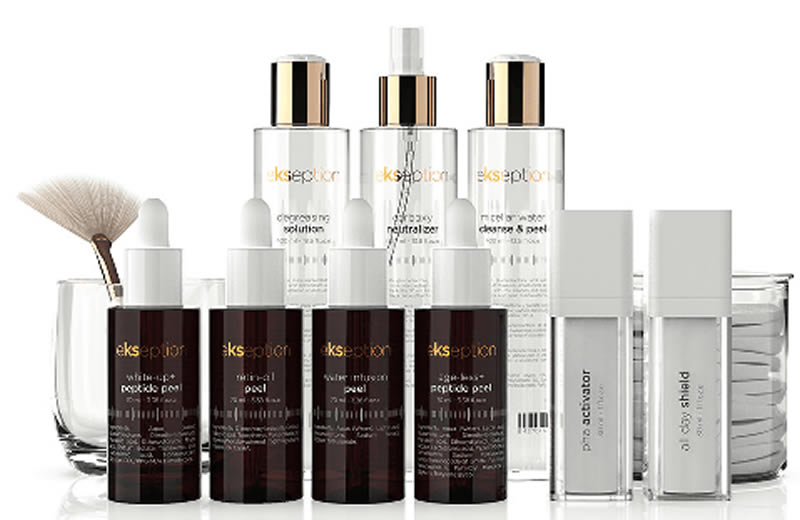 This is an extremely in-depth chemical peel course which provides you with everything you need to know/do to perform excellent treatments and outcomes that your clients will love.
This course is based on Ekseption Peels, where less than the best isn't your style!
Cruelty free, not tested on animals
Ethically sourced raw materials
Safe and effective treatments
Skin friendly peels (alcohol and preservative free)
DMKS delivery technology
It is a brand built around the belief that significant skin health improvement requires professional treatments to address key concerns (such as wrinkles,laxity, pigmentation and more), with advanced homecare. The homecare prepares, complements and protects the professional treatments by helping to prevent the appearance of future damage, protect healthy skin and correct visible signs of ageing.
In addition:
Unlike conventional brands on the market, the peels are unique, as they offer maximum results with extreme comfort.
There are 9 peels in the range treating a wide spectrum of conditions
Ekseption peels do not contain preservatives such as ammonium hydroxide, tromethamine or other harmful buffers
The pH of the peels is stabilised with sodium lactate, a component of the natural moisturising factor with keratolytic functions
They are FREE from alcohol which provides maximum comfort at the point of application
Ekseption is the only brand to offer Mandelic and Salicylic alcohol free peels
The peels have a low surface tension due to dmks technology which results in a more even application of the peel
The peeling solutions provide perfect contact with the skin compared to conventional peel
Ekseption peels have the most innovative formulas with peptides and hyaluronic acid
They contain Polyhydroxy acids (PHA's) which are more respectful of the skin
They are the only brand available with dmks technology which removes irritation, burning sensation, itching and downtime
Ekseption is a complete program of professional peels and unique homecare products, that when combined together they result in no downtime for the client or disturbance to their homelife or lifestyle
Only a short course of weekly peels is required to achieve impressive results
The resurfacing skincare is high quality in terms of packaging, formulations, and incorporates the latest delivery systems with skincare textures that are extremely appealing to the client.
The price point of the resurfacing skincare is very attractive for both professional and retail products.
Cost: £400. In addition you will need the Ekseption Chemical Peel Starter Kit (see below for details) at £440 (plus postage + VAT). Includes enough product to generate at least £4,729 in treatment & retail sales
Pre-Requisites: Facial qualification (a holistic facial qualification would not be recognised)
Course Length: 1 day
Chemical Peel Training Course Content:
History of Peeling
Rejuventing with acids
Dermatology basics
Structure & function of the skin
Skin ageing
Skin injury & regeneration
Chemistry of peeling

Definition
Chemical peel goals
Mechanism of action
Stages of chemical peels
Clinical outcomes
Factors which can affect depth of peel
Types of peels
Enzyme Peels

Consultation process
Skin analysis (Glogau, Fitzpatrick, Photo ageing)
Contraindications
Informed consent
Overview of peel treatments (superficial to deep)
Complications and management
Ekseption Peels

Benefits
Differences
Delivery system
Ingredients
Overview of the 9 peels
5 different methods of neutralisation
Before and after photos
Treatment protocols
Body treatments
Homecare/Retail
Marketing material

Practical
Course Structure:
Home Study (10 guided learning hours)
1 day practical
5 case studies
Post training exam
Starter Kit is £410 (plus postage + VAT) and will be invoiced direct from the distributor: Includes enough product to generate at least £4,729 in treatment & retail sales
110g Enzyme Powder Cleanse & Peel
400ml Monsoon Mist Tone & Peel
400ml Degreasing Solution
70ml Ageless+Peptide Peel (anti-ageing, anti-wrinkle, lifting & hydrating peel for mature & sensitive skin)
70ml Ferulic Peptide Peel (photo aged skin, pigmentation, anti-ageing, lifting, ↓ wrinkles, sensitive skin)
70ml Pure Skin Peel (oily skin, open pores, acne, rosacea, folliculitis, seborrhoea)
70ml Retin Oil Peel (global ageing, including skin sagging & wrinkles, deep wrinkles, rough skin, open pores & oily skin)
70ml Soft Touch Peel (anti-ageing repair peel for thin, sensitive or reactive skin. Restores natural pH, increases hydration and radiance, decreases fine lines and wrinkles)
400ml Hyaluronic Acid Carboxy Neutraliser
100ml Professional Ice Cream Repair (moisturiser)
100ml Professional All Day Shield SPF50+
Retail stock:

All in One Cleanse & Peel 400ml
Monsoon Mist 400ml
Caviar Activator 30ml
Ferulic Activator 30ml
PHA Activator 30ml
Ice Cream Repair 50ml
Caviar Repair 50ml
Glaciar Repair 50ml
All Day Shield 30ml
You will also receive free of charge:
EKS Fan Peel Brush
EKS Silicone Mask Brush
EKS Headband
EKS Peel Glass Cup
EKS Pen
Strut Card: Pre-Peels
Strut Card: Formulations