Carbon Laser Training Course £530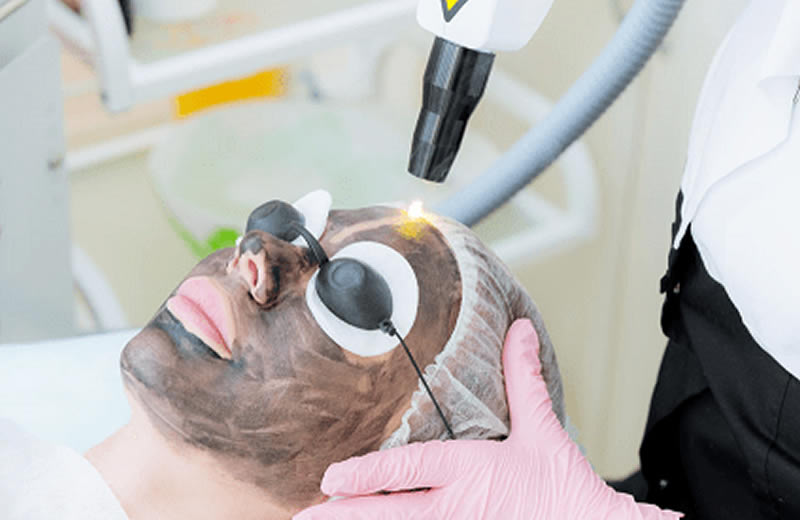 Carbon Laser Facials are non-invasive, painless with virtually no-downtime procedure that helps rejuvenate the appearance of ageing & damaged skin. It gently removes the top layer of skin, leaving an amazing glow with a vibrant, youthful complexion.
Also known as a China Doll Laser Facial, Hollywood Peel, Black Doll Laser Facial or Charcoal Black Doll Facial, this gentle procedure is safe on all skin types. It's a great way to get a quick skin refresher without the longer downtime associated with other laser procedures. It evens skin tone, reducing appearance of pigment, fine lines & acne scars.
The "Laser Facial" treatment described is a two-stage process which:
Freshens the complexion by removing the outer layers of dead skin cells from the client's face
Gradually reduces the skin's pore size and reduces the appearance of fine lines and wrinkles
Often Blackheads and Whiteheads are removed by this technique
Carbon paste is applied to the surface of the skin. The outer dead cells of the Epidermis will absorb the carbon, but deeper living cells of the skin will not absorb the paste
Using a special tip, the 1064nm wavelength of the laser will be absorbed by the Carbon which is vaporised by the Q-switched pulse along with the dead epithelial cells
The lining of open pores also reacts with the Carbon and often blackheads/ whiteheads are removed
The treatment has the immediate effect of a gentle laser peel. It can be carried out as a single treatment if the client is attending a special event, but client will see increased benefits with a course of treatments.
If you need machine recommendations, we have a distributor who not only provides very cost effective machines, they also service them as well
They actually provide machines to many distributors - so buying from them you are cutting out the middle man
Pre-Requisites:
Level 3 A&P
Facial Qualification
Core of Knowledge (certified within last 5 years)
Machine training from your supplier
Course Length: ½ day
Carbon Laser Training Course Content
What is Carbon Laser Facial
How it works
Client selection
Limitations to treatment
Contraindications
Client Consultation
Aftercare
Hygiene
Health & Safety
Code of Practice and Insurance
Relevant Anatomy & Physiology
Treatment

Set-up
Patch testing
Precautions
Recommended treatment regimen
Course Structure:
Home Study (5 guided learning hours)
½ day practical
3 case studies
Awarding Body: ThinkTree and approved by Towergate